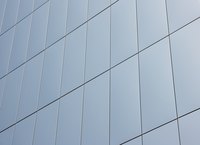 The trickiest part about removing tile from a plaster wall is doing so without damaging the wall behind it. If you work carefully, you should cause minimal damage, which can be repaired with a thin coat of patching plaster.
Things You'll Need
Safety glasses/goggles
Work gloves
Dust mask
Putty knife
Hammer
Chisel or small pry bar
Cover the floor as well as the tub, sink and/or counter top with drop cloths.
Remove your bathtub fixtures if necessary. There is a cap on the end of the taps. Pop it off, and then unscrew (turn counter-clockwise) the fixture.

Look for loose tiles by running a putty knife or pry bar under the edge tiles, both vertically and horizontally. Wedge the knife or bar between the tile and the wall, and it should pop off with minimal pressure.
Use the hammer against the chisel or pry bar to pop off the tougher tiles. Hold the chisel at a 45-degree angle and tap it gently with the hammer. Once you've got a space under the tile, you should be able to just pry it off. You can also use the utility knife to cut through the grout between the tiles.

Start with the outermost tiles, both vertically and horizontally, and work your way down and across.
Scrape off any remaining adhesive and patch the wall once you have removed all the tiles.