Things You'll Need
Hat

Hooded sweatshirt

Pants

Felt

Prepackaged feathers

Hot Glue

Scissors

Black permanent marker

Stencil

White pompoms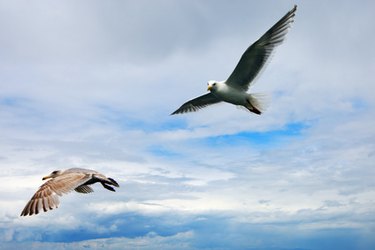 Birds are fascinating to many children because of their ability to fly. Some children may even want a costume so they can dress up like a bird. You don't need to spend a lot of money or go on a scavenger hunt to find a costume at the store. You can easily make a costume with both store-bought items and items you have around the house. By following several steps, you will be able to make a bird costume for that special child in your life in as little as an afternoon.
Step 1
Purchase the supplies needed to make the bird costume from a local craft store. Don't forget to buy enough prepackaged feathers and felt. These will be the most used items in the child's costume. You will need a sweatshirt with a hood, pants that are the same color as the feathers and a hat with a yellow brim that fits the child. If you don't already have those, you will need to purchase them as well.
Step 2
Cut out felt in the shape of a feather. If you cannot draw a feather, use a stencil. The feathers should be about the same size as the prepackaged feathers you purchased.
Step 3
Use a hot glue gun to glue both the felt feathers and prepackaged feathers all over the sweatshirt, including the hood. Make sure you glue feathers on the sleeves as well.
Step 4
Glue white pompoms on the top of the hood and take a black permanent marker and draw a circle in the center of each pompom. The pompoms will represent the bird's eyes.
Step 5
Dress the child in the bird costume to check for any areas that may need alterations. Make sure that you put the hat on their head before putting the hood up. Don't forget to have them put on their matching pants.
Tip
The amount of feathers and felt you need will depend on the size of the kid's bird costume. It is best to purchase more than you think you might need and return what you don't use. If you have a hat that doesn't have a yellow brim, you can paint the hat's brim yellow. Make sure the glue is fully dry before dressing the child.