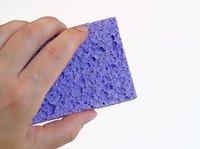 Copper sinks offer a luxurious look and are quite efficient at fighting bacteria, making a copper sink a sanitary addition to your kitchen. Even better news is that something so elegant-looking doesn't require a lot of upkeep -- simple maintenance and cleaning add to copper sinks' desirability. Cleaning your copper sink requires little more than a few minutes and natural cleaning ingredients.
Things You'll Need
Mild natural soap
Clean cloth
Soft, dry towel
High-quality wax
Rinse away any loose debris in the sink with running water.
Apply a mild natural soap to a soft, clean cloth or sponge and gently scrub the sink with it.
Rinse away the soap with running water.
Wipe the sink with an absorbent dry towel to remove excess moisture.
Apply a high-quality wax made for plumbing fixtures to the sink per the sink manufacturer's instructions to help protect it from damage. This helps the water run off smoothly and maintains the copper's natural luster. Reapply the wax when water no longer beads on the sink.