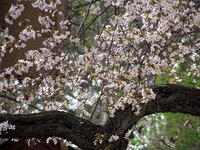 The purple-leaf sand cherry is a deciduous shrub that blooms with delightful small pink flowers each spring. Even after the flowers go by, the shrub is an attractive specimen plant with deep purplish-red leaves that nicely punctuate the abundant green leaves of other plants and shrubs. The purple-leaf sand cherry is prone to disease and insect damage, and as a result usually doesn't live much more than 10 years. Proper pruning can help to keep it healthy and attractive.
Prune crossing branches or those that rub against each other after the shrub has finished blooming. This ensures a wealth of flowers for next year. Leave the strongest of two branches that rub together, and in the case of crossing branches prune away the branch that points inward.
Thin the shrub so that it maintains its shape. To thin a purple-leaf sand cherry, prune out some of the oldest and tallest branches at their base. This will allow other branches to receive light and thrive while maintaining the shape of the plant. Thinning should be done each year in the spring after the purple-leaf sand cherry has finished flowering.
Prune away dead or weak branches. You can do this at any time of year.