Stove tops that are covered in enamel are not prone to rust, but if you have a stove top made of stainless steel, rust may occur. Setting wet pans on the stove top is a common cause of rust, although moisture from any source can cause rust to appear. The method of removing rust from your stove top will vary depending on the severity of the rust. Larger rust spots that have formed within scratches in the stainless steel will require more in-depth cleaning than rust spots on the surface.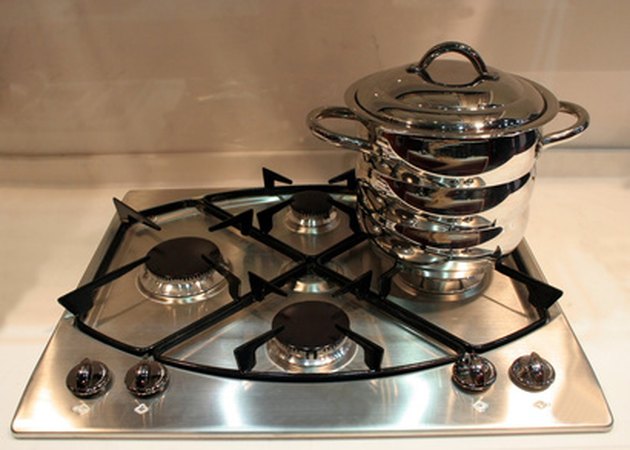 Things You'll Need
Cloth

Potato

Peeler

Baking soda

Gloves

Nitric acid

Water

Glass container

Toothbrush
Step 1
Wipe the stove top clean of any crumbs and smudges using a damp cloth.
Step 2
Peel the potato and dip it in baking soda.
Step 3
Rub the potato directly into the area affected by the rust. Rub in the direction of the polish marks on the stove top surface.
Step 4
Wipe away with the damp cloth. Repeat, if necessary. If the rust remains after repeating the process, you will need a stronger cleaning agent.
Step 6
Mix one part nitric acid and nine parts water in a glass container. Apply the mixture with the toothbrush to the areas affected by rust. Leave on for a half hour to one hour total.
Step 7
Wipe away the mixture using plenty of water.
Warning
Do not use steel wool pads on a stainless steel surface, as they may cause scratching.