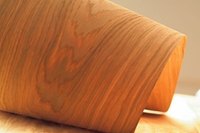 Veneer is a thin layer of wood that's glued over a less attractive surface to improve the look of furniture, a door or a floor. Because veneer is thin, it's not uncommon to see damage in older pieces. Repairing the damage is a fairly simple process, according to furniture expert Jim Kull. Most projects don't require many tools or advanced woodworking experience and can be finished in an afternoon. Waiting for the glue to dry is the most time-consuming part of the process.
Things You'll Need
Razor knife
Clamps
Wood glue
Veneer
Kraft paper
Sandpaper
Repair damage to the crossbanding, or the surface beneath the veneer. Clean out old glue and dirt with a razor knife. If the crossbanding has separated from the surface below it, use clamps and wood glue to reattach it.
Remove the damaged veneer. Use a straight edge and a razor knife to neatly cut out the veneer that's to be replaced. Straight lines will make a less visible repair. Only cut deep enough to remove the veneer.
Match the grain on the new veneer to the old veneer, if possible. Cut out a piece and check to see if it's the same thickness as the old veneer. If it's not, glue a sheet of Kraft paper down first.
Apply a thin layer of wood glue to the crossbanding and another thin layer to the back of the replacement piece. Set the veneer in place and use clamps to hold it until it dries.
Lightly sand the edge of the veneer if it protrudes from the surface you've glued it to. If, for instance, you've repaired a piece that's at the edge of a tabletop. Sand it so there's a smooth seam between the two surfaces.