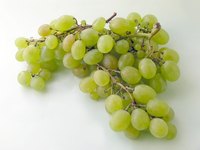 Growing grapes can be time-consuming but also rewarding, especially when you harvest the "fruits of your labor." Grape plants naturally begin preparing for winter in the fall after the grapes are harvested. The vines shed their leaves and enter into a period of dormancy in preparation for cold weather. Care for your grape vines before winter arrives to guarantee another healthy harvest next year.
Things You'll Need
Stop watering the grape vines once the grapes have been harvested. Without the water, the vines will begin to shed their leaves and go into a dormant state.
Remove any weeds away from the base of the grape vines and treat any fungi or disease on your grape vines. Use a weed control product around the grape vines in the fall to reduce weeds sprouting throughout the winter.
Mound 6 inches of hay or straw around the trunks of the vines. The hay or straw acts as insulation and protect the base of the vine from cold temperatures.
Prune your grape vines at the end of the winter, just before they come out of dormancy and begin to bud. Do not prune your grape vines in the fall. Pruning promotes growth. If your vines bud in the fall, the cold weather could harm the new buds and interrupt the growing pattern for the next year.
Remove the hay or straw as soon as the last frost has passed but before buds on the vines begin to open and sprout new leaves. If you leave the wet hay or straw around your grape vines, the dampness could promote fungal growth.