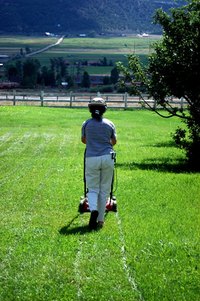 Quack grass is a perennial grass weed that grows throughout most of the northern United States. This weed can grow in almost any type of soil, but the more nutrient-rich the soil is, the less likely quack grass is to grow. While the best way to keep quack grass out of your yard is to prevent it from growing in the first place, there are options for control once it grows. Regardless of the growth-cycle stage, quack grass can be killed with the help of common herbicides.
Things You'll Need
Lawnmower
Glyphosate herbicide
Cut your grass as low to the surface as possible with a lawn mower. Wait for three days so the grass has a little time to grow back. Quack grass grows much faster than normal yard grass, so you will be able to pick out the affected areas after a few days of growth.
Locate the affected areas to determine the best method for the herbicide application. Depending on the amount of quack grass, you should take different steps.
Brush glyphosate herbicide on small patches of quack grass with a paint brush. This can be a time-consuming process, but it will prevent the herbicide from touching the rest of your grass.
Spray the herbicide on large patches of quack grass according to the directions on your particular product. While you are more likely to kill your other grass with this technique, it requires much less time. The spray application may also kill of rhizomes that have not yet turned into quack grass plants.