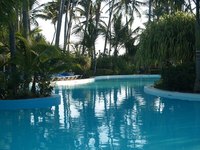 Covering a swimming pool when you are not using it has many benefits. Not only do pool covers protect the water from stray leaves and bugs, but they also help save energy by keeping the temperature of the water regulated and keep the humidity rate of the swimming pool in check. It's not as easy as just covering the pool with a solid cover, because it will need to be siphoned out when rainwater and snow melt have collected. Covering a pool yourself will use the same steps regardless if the pool is above ground or in ground.
Things You'll Need
Mesh pool safety cover
Pool bubble cover
Friend to assist (optional)
Lay out a pool bubble cover into the swimming pool during the day when the pool is not in use. Unroll the bubble cover outside of the pool, and turn it around to make sure you can easily align the corners. Cover the pool with the bubbles of the bubble cover facing upward. If you live in an especially warm or humid area, leave the bubble cover off.
Unroll a mesh pool safety cover near the side of the pool. If your pool has any individual curves or edges, turn the mesh cover around, using a friend's help if necessary, to make sure that the cover will fit and that all the water will be covered properly.
Lay the cover over the water whenever the swimming pool is not in use during the evening and at nighttime. Make sure all the corners are laying completely flat and have not been tucked underneath. If the cover has them, tie the special straps around the entrance handle or ladder to keep it in place.