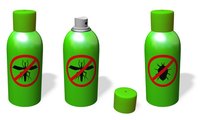 Fumigating your home is an important part of pest management. If a flea, termite or another insect is spotted somewhere in the home, you can be certain there are more hiding somewhere you cannot see. To prevent the spread of possible germs or viruses, use a commercial bug fumigator in your home.
Preparation
Put all the food away that is sitting on the stove, counter or table. Do not leave anything out that is to be consumed after fumigation. The chemical will penetrate through cabinets, so an open package of crackers or cereal should be sealed in an air-tight bag or thrown out to avoid poisoning.
Close the microwave, oven and fridge doors tight. You may place bakeware, dishes and utensils inside the oven to prevent contamination, or they may stay in the cabinets. Wash all of your cooking tools before use once the fumigation is complete.
Remove living plants and pets from the area. Do not leave anything behind that may perish under the heavy fumes and chemicals of the pest spray. Cover your fish tanks tightly or remove them from the area. Do not leave cats, dogs, birds, lizards or any kind of vegetation behind.
Fumigate
Take children and pets to the car, the back yard or the home of a relative to wait until the fumigation process is complete. Be ready to leave with any belongings you may need over the next three to four hours.
Close your doors and windows tightly so the fumes do not leave the affected area. To kill the pests, the chemical is concentrated to ensure the pests will be exterminated. Any air leak will lessen the potency.
Place the fumigator in the center of the room. Do not set it beside walls or large pieces of furniture, as the gas needs to expand and fill the area completely. This process is better performed in an open part of the room.
Pull the tab and leave the room immediately. Close the door behind you and leave the area untouched without re-entering for at least three hours.
Open all windows and doors upon re-entery. Wait at least 30 minutes to allow children and pets to enter. The chemicals may be too strong for little ones to handle at first.