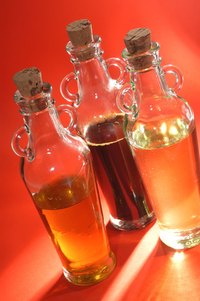 Life can get pretty messy pretty quickly, and it does not care that you are wearing your best cotton shirt. Oily substances are found in many foods and cosmetics, and spills can occur while cooking, eating or getting ready in the morning. Oil tends to leave blotchy stains on cotton, and pretreatment is generally required to remove these stains effectively.
Things You'll Need
Pretreatment spray
Soft scrub brush
Lay your cotton shirt out in front of you with the oil stain near you. Apply a pretreatment spray, such as Shout or Spray and Wash, directly to the stain.
Work the pretreatment solution into the stain with a soft scrub brush or spare toothbrush. Be sure the solution reaches all parts of the stain.
Launder the shirt in the gentle cycle of your washing machine with lukewarm water. Inspect the shirt before drying; repeat the pretreatment and laundry cycle if needed to completely remove the stain.
Allow the shirt to air dry or dry in a machine. Do not machine dry the garment until the stain is completely gone, or the heat may help the stain set in.