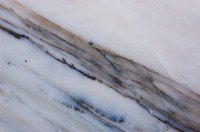 Marble vanities, countertops and sinks create a stunning appearance in a home. Marble, like granite, is a porous material that absorbs spilled liquids rapidly, creating unsightly stains. When a stain occurs, quickly use a non-abrasive cleanser. If the stain is not removed by the cleanser, there are a couple of heavier-duty treatments you can use to eliminate stubborn marble top stains, using only everyday household items.
Things You'll Need
Baking soda
Water
Dishrags
Baking Soda Method
Create a paste by pouring 1/4 cup of baking soda into a bowl. Add 2 to 3 tablespoons of water and stir until the baking soda has developed a paste-like consistency. Keep adding drops of water if needed.
Moisten the stained area with a wet dishrag.
Apply the baking soda paste generously to the stained area using a damp dishrag. Cover the stain entirely and apply the paste outwards from the stain 1/4 inch.
Leave the paste on the stain for 24 hours to allow the baking soda to dry.
Wash the paste from the stain on the marble top with a wet dishrag. Repeat if the stain remains.
Soap Method
Cut two or three cakes of soap such as Dove or Ivory into thin slivers. Use white soap.
Place the soap slivers in a closed sink and run hot water into the sink covering the soap. Allow the soap to melt into a thick pasty material.
Apply the soapy material to the marble top stain and allow to sit for four to five days.
Wet the material with a few drops of water if the soap consistency becomes too dry within the four to five day period.
Wipe the soap off the marble top with a wet dishrag. Dry the area with a soft clean cloth.