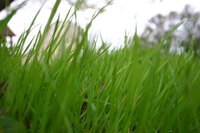 Sod, also known as turf, consists of grass and the roots in the few inches of subsoil beneath the grass. Sod must be removed before the planting of a flower or vegetable bed. You do not need to hire a landscaping company with expensive equipment or harmful herbicides to remove sod. You can use a rototiller or a flat shovel and a wheelbarrow for removing large patches of sod.
Things You'll Need
Lawn mower
Gloves
Flat-blade shovel or spade
Wheelbarrow
Rototiller
Pitchfork
Garden rake
Remove Sod with a Shovel
Mow the lawn section that you wish to remove. Use the lowest setting on the mower.
Take the shovel, hold it upright, and stab the blade into the lawn. Slice down through the sod until you reach the lower end of the grass roots, generally 3 to 5 inches below the lawn's surface.
Create narrow, parallel strips by cutting along your section, roughly 1 foot wide and as long as you need.
Chop the narrow strip into 2-feet sections.
Go to the narrow end of the first strip. Use the shovel blade to pry up the 1-foot end. Cut through the grass roots below, until you have loosened the entire 1-by 2-feet section of sod.
Lift up the sod and place it in the wheelbarrow.
Continue Steps 1 through 6 until the wheelbarrow is full. Cart it away. Continue the sod removal steps as necessary.
Remove Sod with a Rototiller
Turn on the rototiller. Till the section of the lawn you want removed.
Go back over the tilled area with the pitchfork. Plunge the pitchfork into the tilled ground and invert the soil.
Pull out chunks of sod, manually. Pull out weeds, roots and rocks.
Use the garden rake to scrape over the area. Pull out additional sod pieces or weeds as you find them.