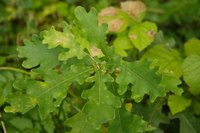 Oak trees are one of the most popular trees used when landscaping a yard. They are well known for their beauty and grace, and for the ample shade they provide during summer months. With proper care, an oak tree will thrive and provide decades of pleasure. Unfortunately, oaks are prone to a number of diseases that cause great distress to the tree, as well as aesthetic damage. In a few cases, some diseases may even kill the tree.
Look at the tree's leaves. Scattered, small brown spots or light brown blotches on the leaves can be a sign of anthracnose, a fungal disease. Leaf spots can also be symptomatic of sudden oak death, a disease in oaks initiated by a pathogen of unknown origin that is fatal to afflicted trees. Insect infestations, such as oak moth, can cause the leaves to brown. Oak root fungus—which can kill a tree rapidly by depriving the tree of its ability to take in nutrients and water—can also cause the leaves to turn brown as the tree dies before it can drop them.
Study the trunk and the branches. Flat sides on an oak tree trunk may indicate root loss, as part of the tree stops growing while the rest continues. Dark cracks in the trunk can indicate the presence of pathogens or insects. Dead twigs can be a sign of oak tree girdler, while branches distorted into the shape of witches' brooms indicate powdery mildew, a disease of trees that commonly occurs in areas with high humidity and cool temperatures.
Investigate the overall factors affecting the tree. Note such things as the age of the tree, the kind of care it receives and how long it has had the symptoms. Check the plants in the area around the tree to see if they have similar issues.