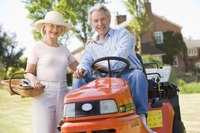 Unexpected tire repairs are never welcome, but removing the rear tire on your Craftsman riding lawn mower is a straightforward process. The rear tire rim secures to the axle with a combination of a retainer clip and a square locking key. The retainer clip holds the rim to the axle, while the key rotates the rim with the axle. Avoid removing the tire while on the lawn because jacks and jack stands can sink into the soil under the weight of your mower.
Things You'll Need
Wheel chocks (or 2 wooden blocks or wedges)
Floor jack
2 jack stands
Park the Craftsman mower on a solid, level surface such as your driveway or garage. Turn off the engine and set the parking brake.
Place wheel chocks around one of the front tires. If you do not have a set of wheel chocks, place a block or wedge of wood in the front and the back of one of the front tires.
Position a floor jack under the middle of the rear frame on the mower. Raise the rear of the mower with the floor jack until the bottoms of the rear tires are 6 inches above the ground.
Place a jack stand on each side of the floor jack under the mower frame. Adjust the jack stands until they touch the mower frame. Slowly lower the floor jack until the jack stands are supporting the weight of the mower. Leave the floor jack in position under the mower.
Remove the plastic cap on the center of the rear rim. The plastic cap will pull off with a pair of pliers. Grip the solid side of the retaining clip, which secures the tire rim to the axle, with a pair of pliers. Pull the clip away from the axle, and pull off the two retaining washers.
Locate the square key that locks the rim to the axle. The square key sits in a notch between the axle and the center of the tire rim. Grasp the end of the square key with a pair of vise grips, and pull the key out of the tire rim. Pull the tire off the Craftsman mower.