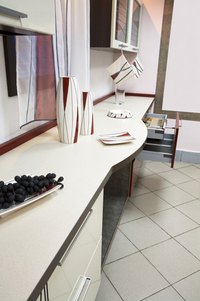 Most residential dishwashers are constructed to stand up to years of use, but occasionally you will have to replace a part to keep your dishwasher in good working order. One of the most common parts that breaks is the door spring. This spring keeps the door from falling open when the latch is open. Fortunately, fixing a dishwasher door spring is a simple task that most homeowners can complete in under an hour.
Things You'll Need
Replacement dishwasher door spring
Remove the lower front panel from the dishwasher. Some models have screws that hold the lower front panel in place, while others have the panel set on hooks. If there are no screws, simply lift up on the panel and pull it away from the hooks.
Open the dishwasher door. Using a screwdriver, remove the screws holding the inner door panel to the door assembly.
Locate the door spring. It will be on one side of the door at the bottom. It connects to the door hinge and the body of the dishwasher behind the lower front panel. Remove the broken spring sections.
Place one end of the replacement spring on the hook connected to the dishwasher body. Stretch the spring and connect the other end to the door hinge.
Replace the inner door panel and install the screws. Replace the lower front panel.