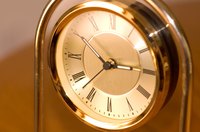 Many mantle clocks, which commonly sit atop fireplace mantles, are battery-operated and easy to set. They are often too small to contain a pendulum mechanism, and an electrical cord shooting out the back would not be aesthetically pleasing. The manner in which you set battery-operated mantle clocks is slightly different from setting a pendulum clock or a digital one, and the process varies slightly based on what type of battery-operated mantle clock you have.
Things You'll Need
Check that the battery inside the clock is fresh. Replace if it's dead or old. The battery is dead if the mantle clock does not keep time at all, and it's old if the clock consistently runs slow.
Find the time-set knob, usually located on the back of the clock near the battery. Turn the knob clockwise to move the minute hand forward until you reach the time you want to set the clock.
If your mantle clock does not have a time-set knob, remove the screws holding the casing to the mantle clock by turning counter-clockwise. Lift off the front plate to the mantle clock when the screws are off. With your finger, carefully turn the minute hand clockwise until you reach the desired time. Reposition the front plate. Replace the casing and screw it back together.