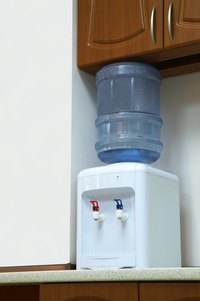 Water cooler tanks provide clean water with little mess. A water cooler regulates water temperature, providing cold or hot water at the push of a button. This also eliminates the waste caused by small individual-sized water bottles, as the cooler tanks will hold several gallons of water and can also be cleaned and re-used. To keep the tanks clean, keep a few inexpensive cleaning elements on hand, and clean the water tanks when needed.
Things You'll Need
Unplug the water cooler, and remove the tank when empty.
Fill the empty tank with a solution of 1 part white vinegar to 3 parts hot water. The vinegar is a natural disinfectant that will clean, deodorize and kill bacteria without introducing harsh chemical ingredients to the water tank.
Let sit for two hours, then empty.
Fill the container with 1 gallon of fresh hot water, and shake to rinse out any remaining bacteria or vinegar solution.
Dip a paper towel into pure white vinegar, and wipe around the rim of the tank opening.
Fill the tank with fresh water, place back into the water cooler, plug the unit back into the electrical outlet and turn on.