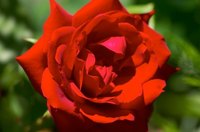 Climbing roses add a wonderful vertical element to the garden, and look great clambering up a fence or wall. The Don Juan climbing rose is a favorite, boasting deep red blooms throughout the summer and a heavy, damask perfume. Glossy deep green leaves adorn this bush that climbs eight to 10 feet. To ensure your climbing Don Juan rose gets a good start in your garden, give it the right growing conditions and plant it with care.
Things You'll Need
Support structure
Mulch or hay
Choose a spot for your rose. The Don Juan climbing rose likes to have at least six to seven hours of sunlight each day and soil that provides good drainage. If you intend to use a fence, arbor or wall as your rose's support, plan to plant the rose 1 or 2 feet away from its support structure.
Dig into the dirt where you intend to plant your rose bush. Dig a hole 12 to 18 inches deep and 24 to 30 inches wide. Mix a few shovelfuls of compost or organic material into the excavated soil.
Fill the hole with water and allow the water to fully drain into the surrounding soil.
Plant your Don Juan climbing rose bush. You may first have to replace some of the dirt mixed with compost to accommodate the plant.
If your rose was purchased bare root, settle the plant into a hole that is large enough to spread the roots and cover the root union or crown with 1 to 2 inches of soil. According to the Colorado State University Cooperative Extension, bareroot roses should be planted early in the spring.
A container-grown Don Juan rose can be planted any time, but early spring is best so that roots have a chance to establish themselves before summer. Remove the rose plant gently from the container. Do not pull it out by the branches. Tease apart roots, and use pruners to cut any roots that are circling the root ball. Position the root ball in the planting hole so that the crown of the bush is an inch or so below the soil level.
Fill the hole in with soil and gently press the soil down around the roots.
Water your newly planted climbing rose bush thoroughly and deeply at the base of the plant.
If you are going to use a trellis to support your rose, position it near the base of the newly planted bush, but leave 1 or 2 feet between the rosebush and the trellis.
Cover the root zone with about 2 inches of mulch or hay, keeping this material from coming into direct contact with the plant's stem.
The Colorado State University Cooperative Extension suggests pruning away any damaged canes or branches, but also notes that climbing roses such as Don Juan do not need regular pruning other than to remove dead or injured parts, or to keep the rose in bounds.