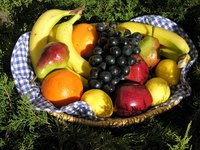 Creating a homemade gift can allow you to express your creativity and thoughtfulness in a way that will be appreciated by the recipient. For instance, instead of buying a pre-packaged fruit basket, make your own basket, complete with a festive lining and exotic fruits, or opt for more common fruits and add some small surprises to delight the receiver.
Things You'll Need
Basket of your choice
Lining material (newspaper, packing paper)
Colored tissue paper or printed tea towel
Various fruits
Fruit preserves, fruit scented soap, fruit-flavored candy, teas or juices
Ribbon
Select a basket that is a size and shape of your liking. For an attractive presentation, you will need to fill the basket. Don't choose a basket that is too large or you will be faced with the task of adding more items than you originally thought.
Crumple up newspaper or packing paper and place it in the bottom of the basket for filler. Cover the paper with colorful or patterned tissue paper, or a festive tea towel to make a pretty background.
Place different types of fruits in the basket. You can opt for citrus fruits and apples or more exotic offerings such as pineapple, mango, kiwi or pomegranate.
Fill in the openings between the fruits with smaller items such as little jars of fruit preserves, small boxes of assorted fruit-flavored tea bags or a bottle of fruit juice or fruit-flavored tea. You can also add colorful fruit-flavored candies or a fruit scented candle.
Cover the handle of the basket with a wide ribbon and tie a simple or ornate bow to complete the creation.