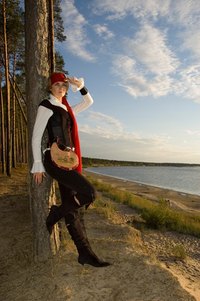 If you find yourself costumeless on Halloween night or hours before a costume ball or party, fear no more. What you need is simple yet contemporary costume that can be thrown together at a moment's notice. A pirate costume is a brilliant choice when in this predicament. It is easy, fast and cheap to make from items found around the home—and without a trip to the store. So whether you've got 20 minutes or two hours, your very own pirate costume can be ready quicker than you can say "Shiver me timbers."
Things You'll Need
Black or dark brown, tightly fitting pants
Scissors
White dress shirt
Black, red or gold vest
Solid-colored bandana
Black or dark brown boots
Black or dark brown washable markers
Fake pearl and gold jewelry (optional)
Black or dark brown eyeliner
Find some old, dark brown or black pants you don't mind destroying. Trim the pants at a level below the knee. Using scissors, cut the pants in an uneven pattern to make them appear shredded and destroyed from many weary days out at sea.
Seek out a baggy, button-down, white dress shirt. Any shirt containing ruffles and silk material is a plus. Using your scissors, shred up this item to give it a more authentic "just off the pirate ship" look. Tuck your shirt into your pants and roll up the sleeves.
Throw on a black, gold or red vest over your white shirt. Most people have one of these laying around the house, leftover from an old prom, wedding or other formal event. If the vest doesn't fit, use your scissors to shred it a bit.
Incorporate pirate-inspired accessories into your costume. Wear black or dark brown boots (boots that fold over on the top look the most authentic) and a solid-color bandanna around your head.
Paint on some pirate facial hair. To achieve the perfect pirate "scruff" without having to sacrifice days of not shaving, paint on your own beard and mustache with washable black or brown markers.
Apply makeup. As showcased in movies like "Pirates of the Caribbean," even male pirates aren't shy when it comes to eyeliner. Load on black or dark brown eyeliner and smudge it around your eyes for a smokey, pirate-eyed look.
Speak like a pirate. Use phrases like "Walk the plank," "Ahoy, matey" and "Shiver me timbers."