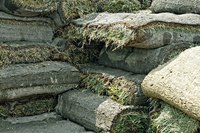 Bermuda is a drought resistant, hardy summer grass that thrives in full sun and easily recovers from the abuse of children and pets. Bermuda sod's pre-grown rectangles can be laid directly onto prepared dirt and will root within one growing season, creating an almost seamless yard. When installing Bermuda sod, remember that the preparation is just as important as the installation to ensure the grass takes.
Things You'll Need
Weed killer
Soil test kit
Till
Rake
Water filled roller
Sprinkler
Box cutter
Preparation
Spray down the entire yard with a strong weed killer two weeks before planting the sod.
Test the soil with a soil test kit to verify its acidity. Sod does best in neutral or slightly basic soil, so the soil will need to be altered if it is too acidic. Alter the soil by adding 50 lbs. of lime and 20 lbs. of 5-10-15 fertilizer to the soil for every 1000 square feet.
Till the soil to mix in the nutrients and soften the dirt. Till to a depth of 6 inches.
Rake the yard smooth and remove any rocks, litter and debris clumps.
Roll the entire yard with a water-filled roller. This reveals any low laying patches. Fill any patches that you find with dirt and roll again.
Water the entire yard with a sprinkler the night before with at least one-quarter inch of water.
Installation
Start at a straight edge of the yard and roll the patches out.
Cut any excess pieces with a box cutter to fill small areas.
Water the sod as you install it to prevent the roots from drying out.
Roll the entire yard again so that the roots set into the soil.
Water the yard four times a day for ten minutes during the first week. Then decrease the watering to twice daily for 20 minutes and finally three times each week for 30 minutes after the grass has established itself in its first two weeks.