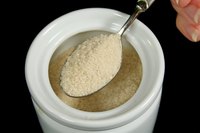 Brown sugar is a common ingredient widely used in kitchens. Cookies, oatmeal, pies and other dishes often require brown sugar. When moisture begins to escape the brown sugar, it will dry out and harden. Many recipes simply cannot be made unless the brown sugar is soft. There is no need to throw out hardened brown sugar. There are several methods that can be used to soften brown sugar.
Things You'll Need
Water
Microwavable cup
Microwave
Spoon
Microwaveable bowl
Two paper towels
Plastic wrap
Apple
Air-tight container
Fork
Baking dish
Oven
Cup of Water Method
Open the bag of brown sugar. Pour 1 cup of water into a microwavable cup.
Place the bag of brown sugar in the microwave. Situate the cup of water next to the bag.
Turn the microwave on high for two to three minutes. Rotate the bag of sugar after one minute if your microwave does not have a turn plate.
Paper Towel Method
Scoop ½ lb. of the hardened brown sugar out the bag with a spoon. Place it in a microwavable bowl.
Moisten two paper towels with water. Lay the wet paper towels over the bowl of brown sugar.
Cover the bowl and paper towels tightly with plastic wrap. Turn the microwave on high for about two minutes.
Remove the bowl from the microwave and take off the plastic wrap and paper towels. Break up the brown sugar with a fork.
Apple Method
Slice an apple into 1-inch pieces. Place the dried brown sugar in an air-tight container.
Lay three to five apple slices on top of the brown sugar. Secure the lid on the container tightly.
Allow the sugar and apples to remain in the container for a day or two. Remove the apple slices and break up the sugar with a fork.
Heating Method
Pour the hardened brown sugar into a baking dish. Heat your oven to 250 degrees.
Place the baking dish in the oven. Leave the brown sugar in the oven for five minutes.
Check the brown sugar with a fork to see if it is soft. If not, leave it in the oven, checking every few minutes until it is soft.