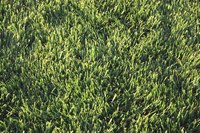 Aboveground pools provide hours of relaxing respite from heat-filled days. The problem is, they do not last forever. They may develop holes or you no longer desire the upkeep involved in having and maintaining a pool. When an aboveground pool is installed, a bottom base is created for the pool. Four to five inches or more of ground is dug out from the yard, and two to three inches of sand is placed into the ground where the pool is built. After disassembling an aboveground pool, a large area of dead ground is left.
Things You'll Need
Topsoil
Rake
Grass spreader
Spread the topsoil over the bare ground. Rake the topsoil so that it covers the entire bare spot.
Sow the grass seed into the topsoil using a grass spreader, or sprinkle it with your hand.
Rake the bare ground lightly so seeds adhere to the soil.
Water the bare ground until saturated.
Water the area regularly, especially if you have not had rain and the ground is drying up.
Do not cut the grass until it has grown at least three inches long.