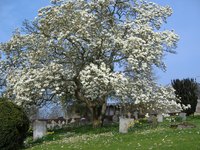 Perfect for shading, magnolia trees can reach a staggering 25 to 40 feet during its cycle of growth. Producing white or pinkish flowers, these trees offer a powerful aroma when in full bloom. Like all plant species, the mighty magnolia is susceptible to environmental and nutritional dangers during its lifespan--and must be cared for properly to thrive. Common magnolia illnesses are often associated with the leaves' pigment and condition; discoloration often ranges from yellow to brown. Take these steps to diagnose your magnolia's ailment.
Things You'll Need
Hose
Water
Rake
Garbage bags
Soil probe
Plastic bucket
Plastic baggies
Pen
Paper
Fertilizer
Diagnosis
Identify the current condition of your magnolia tree. Record your tree's leaf color, any discoloration on the branches, and insect infestations of any sort. When a magnolia's leaves alter between the colors yellow and brown, can be the result of environmental conditions and/or disease.
Identify the overall color of the leaf. If the magnolia's leaves are a yellow or dark brown with green veins, this may indicate a severe iron deficiency often caused by an alkaline soil pH (nutritional value in soil)--a pH level of 6.5 and above. Chlorosis, is the technical term for a plant lacking iron. Chlorosis can only be properly diagnosed by testing a soil sample (See Section Two).

Do not overwater your magnolia tree. Over-watering your Magnolia tree will produce excess moisture in your soil and raise the pH level.

Evaluate your current weather conditions and their affect on other plants in the vicinity of your magnolia. After a brutal winter or hot spell, trees and plants can undergo a series of changes resulting in leaf pigment changes. If other plants and trees on your property have been affected by your current weather conditions in a similar fashion, it is likely that Mother Nature is the culprit. Maintain proper pruning, fertilizing, and watering techniques until improvement is noticed.

Rake all yellow leaves that fall from your magnolia tree. Plants and trees can develop temporary fungal infections that can be treated by a series of proper maintenance and elimination of infected particles. If your magnolia's leaves are suffering from a temporary fungal infection, simply rake and dispose of the leaves in garbage bags.
Test Your Soil
Consult your local Cooperative Extension Service to obtain a soil testing kit and arrange for free testing. Collect soil samples, following the instructions with the kit. Using a soil probe, reach a depth of six inches to collect 15 to 20 core soil samples within the general vicinity of your affected tree.
Empty all core soil samples into your plastic bucket and mix the samples by hand. Mix the soil for three to five minutes.
Fill three to four plastic baggies with the soil samples and seal tightly. With each soil sample baggie include a written description of the soil sample site, date samples were taken, current fertilizers and growth treatments being used on your property, specific concerns regarding your tree's overall health, and the testing you wish to have performed on your soil. Depending on recommendations of the Extension agent, you may request testing for soil compaction, soil pH, moisture, and structure to access your soil's current condition.
Follow up on your soil test. Make all necessary changes recommended as a result of your soil test's results.