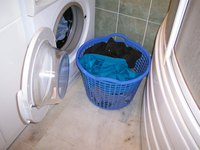 Dryer lint not only presents a problem by cluttering up clean clothes with white specks, but it can also lead to a dryer fire. While it is impossible to completely eliminate dryer lint, you can take action to drastically reduce lint and the potential problems that come along with excess dryer lint. If your clothes take more than one cycle to dry, you see no lint on the lint screen, the clothes are very hot after drying or you find excess lint on the clothes after drying, you probably have a problem with accumulation of dryer lint in the dryer vent.
Use a dryer vent cleaning brush and clean the dryer vent, or hire a professional to clean the exhaust vent behind your dryer. If your dryer vent is clogged, it will create excess dust in the dryer and on the clothes. This accumulated lint can eventually catch on fire given the heat load of the dryer.
Wash dark- and light-colored clothes separately to prevent lint from light-colored clothes from sticking to dark-colored clothes where it will practically shine.
Avoid overfilling your washing machine. If clothes are compacted too tightly, lint that would loosen and wash away may instead cling to the surface of the clothes. Filling the washing machine two-thirds full is a good stopping point to ensure all clothes will get a thorough wash and rinse.
Use the exact amount of laundry detergent directed by the manufacturer. Overuse of laundry detergent or household bleach can cause lint to cling to the fabric during washing and move to the dryer. Limit bleach to no more than one cup per full load.
Shake clothes before placing them in the dryer to remove any loose lint clinging to the fabric.