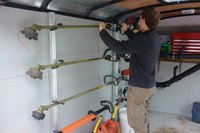 Gas trimmer heads can take a lot of abuse, and sooner or later you will need to replace the head. The process is not difficult. The screw that secures the head is hidden on the side of the gear shaft. When you purchase a replacement head, have your brand and model number with you. Although there are universal heads on the market, it is usually better to get a replacement head specific to your gas trimmer.
Things You'll Need
Pull the spark plug wire off the spark plug with your fingers. It is best to grab the wire at the boot that covers the spark plug. If you pull anywhere else, you could damage the spark plug wire.
Place the gas trimmer on a bench or on the ground, with the trimmer head facing toward you. Push in on the line spool and twist the spool counterclockwise to remove the spool from the trimmer head.
Rotate the head until the indented hole on the side aligns with the notch on the gear shaft. The gear shaft is the bottom portion of the trimmer shaft. When the hole aligns with the notch, you will see the head of an Allen-head screw.
Turn the screw securing the head to the gear shaft with an appropriate-sized Allen wrench. This screw is a left-hand thread, so you will need to turn the screw clockwise to remove.
Pull the head off the trimmer shaft and install the new trimmer head. Align the indented hole on the trimmer head with the notch on the gear shaft and secure the head with the retaining screw.
Insert the line spool into the trimmer head and twist the spool counterclockwise to lock it in place.
Push the spark plug wire back over the spark plug until the wire locks into place.