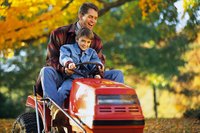 With the right care, your Yard Machine lawn tractor will give you years of rugged use and consistently groom your yard much faster than if you had to rely on a conventional push mower. Getting the most out of your lawn tractor requires regularly replacing your Yard Machine tractor blades. Using the right tools should enable you to complete the task in less than half an hour.
Things You'll Need
Work glove
Car ramp
2 chocks
2-by-4 block of wood
Electric impact wrench
Six-point socket
Replacement blades
Torque wrench
Maneuver your Yard Machine lawn tractor onto a car ramp so the front side of the mower is lifted sufficiently to gain access to beneath the mowing deck. Place chocks behind the back wheels to hold the mower in place.
Disconnect the spark plug wire and remove the ignition key to prevent the tractor from accidentally starting while you are beneath the mower. Put on heavy work gloves to protect your hands from being cut while handling the mower blades.
Place a block of wood between the blade and the mower deck to prevent the blade from spinning as you remove it. Use an electric impact wrench with six-point socket to unscrew the hex flange nut that binds the blade to the blade spindle. Set aside the flange nut and remove the blade. Repeat these steps to remove the mower's other blades.
Attach replacement blades to each spindle, being careful to place the side of the blade with the part number or word "bottom" facing the ground. Line up the star marking on the blades with the star marking on the spindles. Reattach hex flange nuts to each spindle.
Use a torque wrench to tighten each flange nut to between 1080 in. lb. and 1230 in. lb. Remove chocks from behind each wheel and gently steer the mower off of the car ramp.