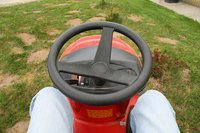 Sluggish performance and poor starting on your riding lawn mower could be a sign of a faulty spark plugs. Manufacturers of riding mowers suggest replacing spark plugs every 100 operating hours or at the beginning of each season, whichever comes first. Spark plugs and gap tools are available at auto supply stores and home improvement centers. A gap tool is a round disk used to measure and adjust the space between electrodes. The disc has measurements stamped on the disk to correctly measure the gap.
Things You'll Need
Needle nose pliers
Socket wrench set
Replacement spark plug
Gap tool
Open the riding lawn mower motor hood. Locate the spark plug wire on your mower. Most spark plugs are on the very front of the engine or on the right side, depending upon your model.
Pull the spark plug wire boot off the spark plug. The boot is the large end of the spark plug wire connecting the wire to the spark plug. If necessary, use a pair of needle nose pliers to pull the boot off the spark plug.
Remove the spark plug with an appropriate size socket wrench. Turn the spark plug counterclockwise to remove the plug.
Slide the gap tool between the ground electrode and the plug electrode to check the spark plug gap. The ground electrode is the small piece of metal that bends over the bottom of the plug. The plug electrode is the small piece that protrudes from the bottom of the plug. There should be a .030-inch gap between the electrodes.
Bend the ground electrode as necessary with the notch on the gap tool to adjust the gap. Thread the new plug into the plug hole on the engine. Tighten the plug with the socket wrench. Do not over tighten the plug because this could cause the plug to break or cause stripping of the threads.
Slide the spark plug wire over the spark plug, and push the boot in with your thumb until the boot locks onto the spark plug. Close the riding lawn mower hood.