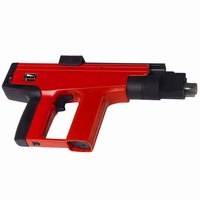 Pneumatic nail guns operate by driving fasteners into wood, plastic or drywall using the force of compressed air. When operating a pneumatic nail gun or troubleshooting a nail gun that is not working properly, safety is paramount. Always wear safety glass and keep the barrel of the nail gun pointed away from you and towards the ground. Individuals who are not experienced in pneumatic nail gun use should not attempt to fix a malfunctioning or inoperable gun and should contact their contractor or hardware store before proceeding.
Things You'll Need
Pneumatic nail gun
Safety glasses
Pneumatic nail gun lubricant
Check The Compressor, Check the Hose, Check the Gun
Check the compressor. If your nail gun is not firing or is firing weakly, the problem may be with its power source. Check the air compressor pressure gauge. If the pressure is low, the nail gun will not fire properly. Try adjusting the pressure gauge to increase air pressure to the gun. If the nail gun remains inoperable, turn the compressor off and bleed it of excess air and condensation moisture. Detach the hose from the compressor. Check the oil in the compressor motor. If it is low or empty, add oil. Check to see that all the valve fittings on the compressor are snug.
Check the hose. Detach the hose from the compressor and the gun and inspect it for damage. Air hoses for pneumatic nail guns can tear or kink on a job site without the tool operator realizing it. Check the hose to ensure it is not damaged. Check the air fittings on each end of the hose. They may be loose or may need to be replaced because of wear and tear. There are several hose reels on the market that you might want to consider to keep excess hose length properly stored and out of harm's way while working.
Check the gun. Your pneumatic nail gun might be jammed. Before checking the nail gun for a jam, turn off the air compressor and detach the gun from the air hose. Never try to troubleshoot a pneumatic nail gun for any reason while it is still pressurized. Doing so can result in serious injury or death. Different pneumatic nail guns have different clearing mechanisms. Main feature an access point at the gun's tip to check for jammed nails or fasteners. Jams can also occur at the gun's loading point. You may need pliers to wrench out a particularly stubborn jam. Again, never attempt to clear a jammed nail from an air gun while it is connected to the air compressor; even if the compressor is turned off, excess air can cause the gun to fire inadvertently.