The key to choosing a hardwood floor that will look good with your kitchen cabinets is to pick one that "goes with," not one that "matches." Finding an exact match for the cabinets' wood tone would be difficult, and tones that are too similar will not produce the most pleasing look. Providing contrast between the cabinet color and the floor color will keep the cabinets from seeming to "disappear" into the floor and will be more interesting to the eye. Just as fashionable dressers don't wear the same color from head to toe, fashionable kitchens also offer a varied color palette.
Step 1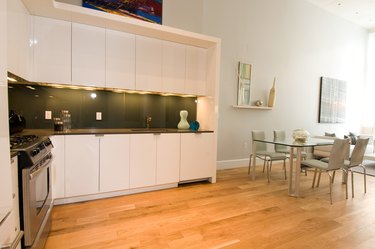 Carry the same hardwood floor color throughout your living space, including the kitchen, for a seamless look. In this case, the cabinet color is not a deciding factor.
Step 2
Choose a contrasting color for the flooring. If the cabinets are a light tone, a dark- or medium-toned floor will set them off, and vice versa.
Step 3
Pick out any wood flooring you like if your cabinets are painted. Dark floors contrast nicely with white or cream cabinets, and medium or light tones offer a subtler look.
Step 4
Step outside the box by mixing wood species to provide more variegation in color among the planks or by choosing a wood that has a lot of natural variation. This is a good way for homeowners to display some personality in the room.
Step 5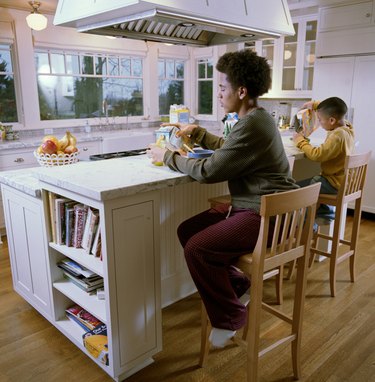 Choose a floor style that does not clash with the kitchen's design aesthetic. Rough-hewn oak floors, for example, will look more at home in a country kitchen than in one with a contemporary design.
Tip
When choosing hardwood flooring for the kitchen, a high-traffic area, consider the durability of the wood species.