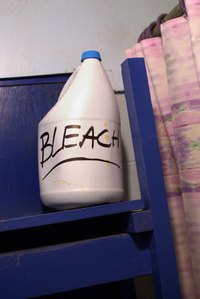 Cedar shake is a durable siding material that can give your house an attractive, rustic look. Over time, cedar siding can turn dark and unsightly. Bringing your cedar siding back to its original shine and luster involves figuring out what is causing the discoloration and treating accordingly. By following a few simple steps, you can have your cedar siding looking bright and new once again.
Things You'll Need
Wood cleaner
Wood brightener
Household bleach
Brush, roller or sprayer
Rubber gloves
Protective eyewear
Protective clothing
Diagnosing the Cause
Wash the siding with a wood cleaning product. This will remove any dirt or grime that may be lying on the surface of the wood. Mix the cleaner according to the manufacturer's instructions. Apply the cleaner with a brush, roller or sprayer.
Allow the cleaning solution to sit for 15 to 30 minutes. Then scrub the siding down with a nylon brush. Rinse off the siding with a hose. Now you will really be able to see what you are dealing with.
Test with bleach. There are two main causes of the darkening of cedar siding: tannin stains, and mildew stains. If the darkening is caused by mildew, the bleach will immediately clear it up. If the stain is caused by tannin, the bleach will have no effect.
Treating Mildew
Mix a solution of one part household bleach to nine parts water, to treat mildew on cedar shake siding.
Apply the bleach solution to the siding using a brush, roller or pump-up sprayer.
Scrub the siding down with a nylon brush, and rinse. Bleach should clear up mildew almost immediately. Make sure to rinse the wood thoroughly to remove any residual bleach that could harm your siding.
Tannin Stain Removal
Mix a solution of wood brightener, to treat tannin stains. The active ingredient in wood brightener is oxalic acid. This is a mild acid that neutralizes tannins. Tannins are naturally occurring substances that bleed out of the cedar wood itself. Tannins protect the living tree, but can cause unsightly darkening of your cedar shake siding.
Apply the mixed wood brightening solution to the siding. Allow it to remain on the surface for 30 to 45 minutes.
Rinse the siding with water. There is no need to scrub. The oxalic acid in wood brightener will chemically react with, and neutralize, the dark tannin stains on the cedar shake siding.