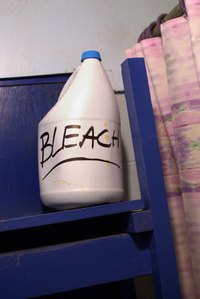 When faced with the task of cleaning and restoring log homes, property owners often consider sanding the logs to remove stains and restore the beauty of older wood. While hand sanding or sanding with a mechanical sander can renew the finish, proceed with extreme caution as sanding can damage the logs. Many fine old log structures have been severely damaged by excessive sanding or other failed do-it-yourself methods.
Things You'll Need
Scrub brush
Household bleach
Bio-degradable soap
Pressure washer
Extension ladder or scaffolding
Consult a log home restoration professional to evaluate the condition of the home. Modern technology that employs media blasting (applying under pressure) of soda, glass, corn cobs or walnut husks will lightly abrade the log surface, removing old stain and finishes. Blasting is preferable to sanding and is the "high-tech" way to achieve a smooth finish. Blasting is much gentler and kinder to the underlying wood than sanding. (Log blasting equipment can be rented from log home contractors or you can employ their services for a professional-quality job.) Sanding strips away wood that can not be replaced and can be time consuming and labor intensive.
Examine the logs carefully. Logs are easily cleaned with soap and water. Mix 1 cup of organic, bio-degradable soap and 1 quart household bleach with 5 gallons of water. Scrub the logs with the mixture, starting at the top of the wall and working down. Use a soft bristle brush. Rinse well and allow to air dry. Scrubbing and rinsing will remove pollen, dust, debris and most stains.
Use a pressure washer to clean logs. Use a low pressure setting (350 psi) to remove surface soil. Commercial cleaning additives are available from home and building supply centers and log home contractors. Rinse well and allow to air dry completely prior to refinishing or staining.
Use a belt sander with 100-grit sandpaper to sand rough or slivered spots on logs as required. Choose a narrow design sander for filing and sanding in confined areas. Always sand in the direction of the grain of the wood. Employ a small, triangular finishing sander with fine grit (100-grit) sandpaper to smooth the edges of cat-eyes, burls, or window and door trim.
Select a grinder-style sanding tool with abrasive discs (circular sanding discs) to smooth and profile openings and log ends. The ends of logs may require sanding prior to sealing. Log end act as straws, sucking up moisture. Seal ends with a commercial sealer designed for this purpose, following product manufacturer's label instructions.