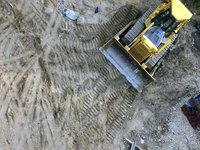 Tractors are a useful tool for farms, homes or other properties. The size of a tractor and the type of tractor is important when dealing with smaller areas of land. Large land areas, with several acres, will use large tractors, but smaller land areas can be more difficult. There are several considerations to make before deciding on the tractor that is most appropriate for the land. Small acreage is only one of those considerations, but it is one of the most important aspects to choosing the appropriate tool.
Study the land. Different tractors are available for different jobs. The land should always be considered before looking into the tractor. Hilly land will need a different size and type of tractor than land that is relatively straight and flat.
Write down what needs to be done with the tractor. The type of work will give an idea of the size. A tractor that is needed for a simple lawn will not need to be as large as a tractor for a farm.
Obtain an exact measurement of the land. Small acreage doesn't always require a small tractor, but the largest tractors will usually require a minimum acreage, like three or four acres. Large tractors need more space to maneuver. Look into the horsepower of the tractors. Tractor size is also related to the horsepower. According to Acreage Life, small acreage land areas between 5 to 15 acres will need about 25 to 35 horsepower.
Study the types of tractors. There are several tractors available that have different purposes. For example, one type of tractor can be used for snow removal while another might be unable to move in the snow due to poor traction. The type of tractor will often give an idea of what it can do.
Look into the attachments available for the tractor. The attachments are very important. Sometimes small acreage land will require getting a larger tractor to accommodate all of the needed attachments for the tasks. For example, a tractor used for plowing would need a plow attachment while a tractor used for snow removal would need attachments that can push the snow.