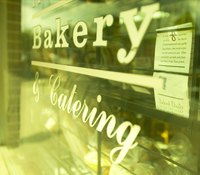 Even those with the very best handwriting often find it difficult to paint signs using hand lettering. People are accustomed to writing on a much smaller scale using lines as a guide to keep the words straight and uniform. Hand lettering requires making the words larger and more ornate and organizing them to fit within the frame. Since there is little room for error, hand lettering and sign painting demand perfection, which comes with practice, time and effort. However, once learned, this useful skill is ideal for a multitude of projects and undertakings.
Things You'll Need
Paper
Pencil
Ruler
Poster board
Eraser
Paint
Paintbrushes
Begin with a familiar font. Before tackling the more difficult hand lettering styles, start with a common style. Straight letters are easier than cursive since getting the flow right is difficult when the letters are larger than normal. If a variation is desired, try opening up the familiar font in an outline style that you can fill in with color to add distinction to the sign painting.
Practice often and start small. If the font is difficult, continue to practice on a smaller scale using paper and pencil. Slowly increase the size of the hand lettering until you achieve mastery. Repetitious attempts to ace the sign painting will definitely increase the chances of creating a superior final product.
Take measurements. Knowing the measurements of the sign and the intended lettering is vital to ensure that everything will fit properly. Simply measure the width of the poster board and divide by the number of letters and spaces to know how large to hand-letter the words. For example, a 12-inch-long sign that requires the words "Go Team!" hand-lettered across needs enough room for eight letters including the space between the words and the exclamation point. That leaves a width of 1 ½ inches for each letter, space or punctuation on the poster board.
Use light pencil lines as a guide. Working with a ruler, lightly draw pencil lines on the surface of the sign. The lines help to keep the hand lettering straight, and you can easily erase them after the sign painting is complete. For extra help with difficult hand lettering, use the pencil to draw out a box outlining the exact measurements. This guarantees that no part of the lettering goes over the allotted space.
After lettering, embellish the sign by hand painting. The pencil marks created by the hand lettering will disappear under the paint, leaving behind a gorgeous handmade sign. Use two colors to create a shadow effect on the hand lettering, or accent with glitter. Painting small designs on the sign to enhance the words also works well as long as the configuration does not interfere with the lettering.