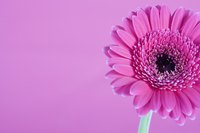 The gerber daisy (species Gerbera), an ornamental relative of the sunflower, sports wide, vibrant blooms in a bold array of yellows, oranges and pinks. Potted gerber daisies can interrupt the dreary winter doldrums with a fresh burst of summery color, bringing life to any room in the house! With proper care, these short-term plants can provide color and bloom for up to two years.
Things You'll Need
Peat-based potting soil
Water
Caring for Indoor Gerber Daisies
Choose a location that offers full sunlight. If you can't sit your daisy in a well-lit window, artificial plant lighting can also help to supply the needed light requirements. Proper sunlight allows the potted gerber daisy to reach maximum blooming potential.
Provide indoor temperatures between 50 and 70 degrees F. If indoor daisies get too much heat, they will wilt and stop blooming. If they get too cold, the foliage can turn black. In addition to proper temperature, provide average humidity. During winter months, you can mist the daisy lightly to maintain proper humidity levels.
Keep the soil evenly moistened during the daisy's blooming period. When it is out of bloom, the soil can be allowed to dry slightly before watering. Do not overwater indoor gerber daisies, as this will leave the plants susceptible to fungal diseases and crown rot. In addition, using cold water can cause dark spots to form on the foliage.
Feed your indoor gerber daisies every other week during active growth and blooming periods. Use a water-soluble fertilizer such as Schultz's Blooms Plus or Miracle Gro, following package directions for proper measurements.
Use a peat-based potting soil with good drainage, if you need to repot your indoor daisies. Potted gerber daisies will thrive when the root structure is somewhat constricted, so increase by one or two pot sizes only.