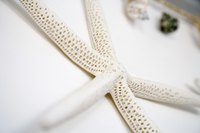 Starfish hair clips are great summer accessories. They look great on the beach and are a practical, fun addition to any outfit. More extravagant models are popular at beach-side weddings and other formal events. They are so easy to make that you can create dozens to go with any outfit or kick off an older child's swim party with this fun craft. All you need are a few basic craft supplies and some creativity.
Things You'll Need
Plastic barrette with flat top
Starfish (real or fake)
Small rhinestones
Craft glue
Tweezers
Wax paper
Lay out your starfish hair clip idea. Place the clip in front of you and line up the starfish (one or more) underneath the clip in a pattern that will be attractive and fit on the clip.
Glue your starfish to the clip. Use the craft glue. Be liberal with the glue wherever the starfish will be in contact with the clip. Hold the starfish gently in place on the clip for about three minutes to let the glue set.
Allow an hour for the glue to dry. During this time, do not touch or move the clip.
Pour a small amount of craft glue onto a piece of wax paper. Your glue puddle should not be more than about 2 inches in diameter.
Accent your starfish hair clip with the rhinestones. Use the tweezers to pick up a rhinestone and touch the back of the gem to the glue on the wax paper. Then press the gem gently onto the starfish.
Dry the clip for 24 hours before you wear it. Keep it in a warm, dry place.