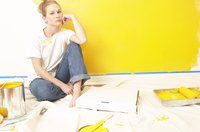 Clear coat is a protective, clear coat of paint that helps to protect the paint underneath. It is easy to apply, and it is always recommended to apply two coats. Before you apply the second coat, the first coat needs to cure. Plainly put, it needs to dry completely before adding another coat. Clear coat is applied to cars, boats, wood and other items as well. Clear coat needs to be applied with a smooth cloth so that it goes on correctly.
Things You'll Need
Apply the first coat of clear coat with a cloth diaper.
Wait for the first coat to dry or "cure" for 24 hours.
Use the same cloth diaper to apply the second coat.
Allow that coat to cure for an additional 24 hours.