Things You'll Need
Pencil

Drill

Drill bit

Screws

Screwdriver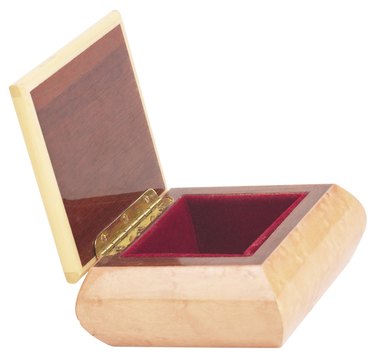 There may be several reasons why you must put hinges on a wood box. The old hinges may have been damaged, or you may wish to install new hinges that are more decorative. Or maybe you're doing a home project with a youngster, teaching the child about woodworking. In this case, the wood box may be home-constructed and intended as a toy box. Whatever the reason, the steps for completing the task are simple and straightforward. Given the right tools, it can be accomplished quickly.
Step 1
Position the wood box and the lid in the work space so that all points on the wood box and lid can be easily accessed. Position the lid on the box in the manner it is intended to be for a closed lid.
Step 2
Place the hinges on the lid in the position you want them installed. You may want to measure an equal distance from each side of the lid, say 4 inches so the hinge placement is symmetrical. The top leafs of the hinges should lie flush with the top of the lid.
Step 3
Mark the wood lid through the top leaf holes of the hinges. This will mark the placement for the screws.
Step 4
Remove the hinges briefly and drill holes slightly smaller than the diameter of the screws.
Step 5
Replace the hinges and tighten the screws through the hinge leaf holes with a screwdriver.
Step 6
Mark the back side of the wood box with a pencil through the bottom leafs of the hinges.
Step 7
Lift the hinges and drill holes through the marked locations.
Step 8
Return the hinge leafs to their resting positions and tighten screws through the holes and into the wood by using a screwdriver.