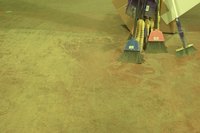 Cleaning the concrete around your home is essential if you want a nice clean exterior look. This does not need to be a toxic exercise. You can learn what concrete cleaners to use and well as tips on maintenance.
Things You'll Need
Concrete wash containing hydrogen peroxide
Bucket
Pump sprayer
Pressure washer
Concrete sealer
Mix a powdered cleaning product made from hydrogen peroxide in a bucket. Let it sit for 15 minutes to give it a chance to fully activate. The peroxide eliminates mold and mildew spores, and the bubbles lift the debris to the surface for an easy clean. Transfer the activated solution into the pump sprayer.
Apply the solution with the pump sprayer. Completely soak a section of the concrete that you want to clean and let the peroxide go to work.
Pressure wash the surface at a slight angle to soften the impact of the water so that it does not damage the concrete. Turn the throttle down on the pressure washer and raise it slowly until the debris easily washes off.