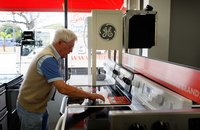 Updating a kitchen with a Whirlpool glass top stove is an eye-catching improvement over a standard metal stove top. Tempered glass stove tops are more durable than ever and offer years of use and beauty when properly cared for. Knowledge of how easy it is to scratch a glass surface will go a long way in helping to prevent permanent damage from occurring. Keeping the surface clear of items when not in use and gentle cleansers are key to a long-lasting scratch-free finish.
Things You'll Need
Liquid detergent
Scratch-free sponge
Paper towels
Glass cleaner
Remove any grates before cleaning. Some electric models use grates, while others have built-in burners.
Add two drops of liquid detergent to a scratch-free scrubbing sponge. Run under warm water and lather the surface of the sponge. Begin scrubbing the surface of the stove.
Wipe grates (if needed) with the sponge. Re-install once they have air dried.
Rinse with clear water. Dry the surface with paper towels.
Spray the dried surface with glass cleaner. Wipe to a streak-free shine with paper towels. (See reference)