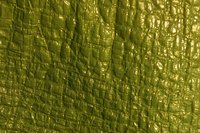 Bicast is a man-made leather used on many upholstered furniture pieces, most commonly sofas and lounge chairs. The leather is not from an animal, making it a more low-cost, yet elegant option to consider when purchasing furniture. The Bicast leather is finished with a coat of polyurethane, which works as a protective layer that will resist stains, as well as protect the leather from normal wear and tear that could dull the appearance of the furniture. Cleaning the Bicast leather is a fairly easy procedure that can be completed with a few simple cleaning elements.
Things You'll Need
Wipe the Bicast leather with a soft cloth, which will collect most dust and residue. Wipe the leather down every week to keep the polyurethane shining through.
Moisten the cloth with warm water, and wipe over the Bicast for sticky stains or residue that is not easily removed with the dry cloth. The water will be safe for the polyurethane and collect nearly any residue that has formed.
Mix three cups of water with a squirt of liquid dish detergent in the sink. Dip a cleaning cloth in this solution, wring out as much water as possible, then continue wiping over the Bicast for stubborn stains. The dish detergent is mild enough to use on the polyurethane coating, yet strong enough to cut through scum and build-up.