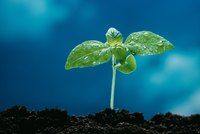 Fuchsias are also called Lady's ear-drops. They are native flowering plants to South America. Fuchsias are widely grown for their beautiful display of flowers and growing habits. They can be grown in hanging baskets, as garden shrubs, or on espaliers. Fuchsias can be grown in the USDA Zones 6 through 10. Fuchsia flowers can be as small as a peanut, to as large as tennis ball. Plant fuchsias in partial shade, with plenty of water and rich-loamy soil.
Things You'll Need
Fuchsia seeds
Seed starting compost
Plastic pots
Spoon
Plastic wrap or sheet of glass
Newspaper
Watering tray
Put about 1 to 2 inches of water into a small bowl. Place the fuchsia seeds into the water. Let the fuchsia seeds soak in the water for 24 to 48 hours. Use seed starting compost and fill up 2- to 3-inch wide plastic pots full of the mix. Or until the growing medium is within 1/2-inch from the top of the rim in each pot.
Set the pots into a watering tray that has about 1-inch of water in it. Let the pots soak up the water until you can see the soil in each pot is moistened down. Pour off any excess water from the tray.
Pat down the soil in each pot firmly. Add more soil if necessary so the pots remain well filled with soil. Cover the soil in each pot with 1/8 to 1/4-inch of fine sand.
Place three to four fuchsia seeds onto the surface of the sand in each pot. Press the seeds into the sand firmly using the back of a spoon. Mist the sand in each of the pots until the sand is visibly moistened down.
Place the entire tray of pots into a warm, 70 to 75 degree F location. Place either a sheet of glass, or plastic wrap over the entire tray of pots. Do not allow the plastic wrap to come in contact with the growing medium. Then cover the tray with a few sheets of newspaper. (The newspaper is used to exclude light).
Loosen the plastic wrap, or remove the sheet of glass, during the day; keep the tray well covered during the night. Add water to the tray to keep the growing medium in the pots moist, but not sodden wet.
Remove the plastic wrap, or glass, when seedlings emerge, and provide about 6 to 8 hours of light daily. Germination for fuchsia seeds can be sporadic, generally from 2 weeks to as long as four months, depending on growing conditions. Maintain moisture levels. When seedlings have grown to achieve about 3 to 4 inches in height, pot them up into larger containers.