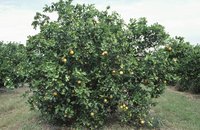 Lemon trees are self-pollinating and do not need another tree to fruit. They do, however, need the correct conditions and care throughout their early lives to bear fruit. If your lemon tree is more than seven years old and is still not fruiting, you might have to make some adjustments to the soil. Knowledge of how to create the optimum environment for citrus fruiting will help you to get your lemon tree to fruit.
Things You'll Need
Water
Nitrogen fertilizer
Soil test kit
Amendments, a soil-conditioning substance that promotes plant growth
Plant the tree in a pot in climates where the temperature drops below 20 degrees Fahrenheit and bring it indoors during the winter months. Lemons require full sun during the growing season in spring and summer. Make sure the soil and the pot if you are planting the tree in a container are well-drained.
Care for the tree for the next four to seven years, which is when it will reach maturity and start to bear fruit. Water the lemon tree often, keeping the soil evenly moist for container plants. Fertilize monthly during the growing season with 2 tablespoons of nitrogen fertilizer spread under the tree.
Test the soil if your tree is still not fruiting after seven years. The lemon tree likes soil that falls between 6.1 and 7.8 pH balance. You will also be able to find if the soil has any nutrient deficiencies at this point.
Amend the soil with whatever it needs to reclaim its fertility. If it is too acidic, which is likely, apply lime. Once the soil is balanced, the lemon tree should begin fruiting because it will have the necessary nutrients to thrive.