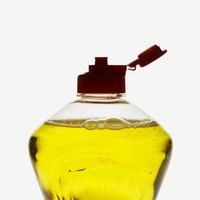 SmartStrand carpets have gained quite a reputation for their durability and ability to resist stains. The key to SmartStrand carpets is their fiber, which is made with renewable-sourced polymer. Made from corner sugar, the polymer has the additional benefit of being environmentally friendly. The makers of SmartStrand carpets are so confident of its ability to resist stains they showed the results of what happened after a rhinoceros did its worst to the carpet for 14 days. If you do find yourself with a spill, the carpet's stain resistance makes it easy to clean any mishaps.
Things You'll Need
Stain remover
Brush or sponge
Wet a cloth with warm water. Scrub the stained area with the cloth. Rinse the carpet with clean water and a cloth.
Mix a solution of warm water and a few drops of dish detergent. Pour the solution onto a cloth and scrub the stained area.
Rinse the carpet with warm water and a cloth.
Spray a carpet stain remover on a small and inconspicuous part of the carpet. Check to make sure the stain remover does not change the carpet's color. Spray the entire stained area if the carpet's color remains unchanged.
Allow the stain remover to soak into the carpet for 15 minutes.
Scrub the area with a brush or sponge. Rinse the carpet with warm water and a cloth.