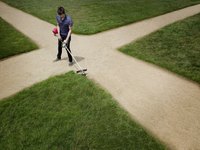 If you have been using your edger for a number of years and have not yet changed the blade, you may notice that it is getting harder and harder to push the edger through the turf. Like lawn mowers, the blades on lawn edgers eventually get dull and need replacement. When you replace your lawn edger blade, you will be amazed at how much easier operating the lawn edger becomes. If you have successfully replaced your lawn mower blade before, you can rest assured that it is even easier to replace a lawn edger blade.
Things You'll Need
Lawn edger blade
2 adjustable wrenches
Disconnect the power to your lawn edger to ensure it doesn't turn on when you are changing the blade. For a gas-powered edger, disconnect the spark plug. For an electric edger, unplug it from the electrical outlet.
Position an adjustable wrench on the shaft behind the blade and another on the nut in front of the blade. Loosen the nut on the front of the blade and remove it. Remove the blade and any washers and make a note of where the washers were so you can install them correctly later.
Purchase a new blade that is compatible with your lawn edger. It is beneficial to take the old blade with you to the store to ensure you are purchasing the correct one.
Install the new blade on to the lawn edger's shaft the same way the old one came off. Make sure you replace the washers in the correct orientation. Screw the nut back on. Position the wrenches in the same manner as Step 2 and tighten the nut all the way. The new blade is now installed.