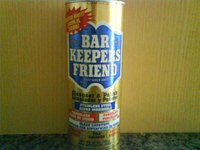 Scratches on doorknobs may not be noticeable to everyone; however, those of us who pride ourselves on paying close attention to details throughout our home know a little scratch can cause a big headache. This technique for removing scratches is easy, basic and will get the small scratches off the doorknob in a snap.
Things You'll Need
Towel
All-purpose spray cleaner such as 409 or Simple Green
Paper towels
Sponge
Water
Bar Keepers Friend cleaner
Using a towel, cover the floor area under the doorknob.
Use an all-purpose cleaner and paper towels to clean the scratched knob.
Generously sprinkle a wet sponge with Bar Keepers Friend, and wipe the doorknob with the sponge, making sure to wipe with the grain of the metal to avoid damaging the knob further. Repeat this steps as needed, adding more powder if necessary to work out the fine lines and scratches on the handle.
When the desired look is achieved, clean the sponge completely, and use the clean sponge and water to wash away any leftover powder residue. Buff and polish with a clean soft towel.