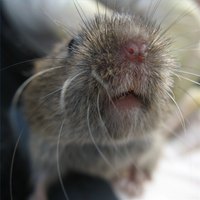 According to United Wildlife Control, voles are small rodents that establish colonies of burrows and tunnels underneath the ground. They prefer living in areas with a lot of cover like tall grass, shrubbery or wood piles, and they feed on vegetation like plants, grass, roots and garden vegetables. Voles can cause extensive damage to property by their underground digging and feeding, but it's easy to recognize the symptoms of vole infestation and remove them from your property.
Things You'll Need
Vole poison
Phone number for a pest control agency
Build a fence around your garden, trees or any other area the voles are affecting. GetRidofThings.com suggests buying stakes and 1/4-inch mesh, and burying the fencing a foot down in the ground. Fences will deter or contain colonies.
Look for signs of vole infestation. Lines showing disturbances under the surface of the ground are indicators of vole activity, as are runways filled with droppings and grass shavings.
Set vole traps at strategic locations near vole trails or holes. Bait the inside of the trap with peanut butter or apple bits.
Use poison inside of baits or traps to kill the voles if you wish to do more than just trap them. You can buy vole poison and baits at hardware stores or through online sources.
Know the number to a good pest control agency and call them for further advice. If you've trapped the voles but don't wish to kill them, an agency will take it from there. Additionally, many vole infestations are hard to completely eradicate. Trained professionals will be able to tie up any loose ends and ensure the removal of a colony.