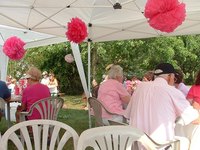 Tissue paper floral pom-poms are a versatile decoration for your wedding. Hang larger pom-poms from string around light fixtures as a whimsical ceiling decoration reminiscent of paper lanterns. Or make small pom-poms and glue them to napkin rings for your table setting decor. Attach to floral stems and make colorful paper centerpieces with multiple-sized pom-poms. Use them throughout the reception hall and even as pew decorations during the ceremony itself. Choose colors that match or complement your wedding theme.
Things You'll Need
Tissue paper
Ruler or tape measure
If necessary, cut your tissue paper sheets according to the desired size of your finished pom-poms. Make medium pom-poms using 17 by 30 inch sheets or large pom-poms using 20 by 30 inch sheets.
Stack 8 to 11 sheets of tissue paper on top each other. Use one color of tissue, or alternate two colors in the stack.
Accordion fold the stack of tissue using 1.5 inch folds. Fold lengthwise and crease each fold completely.
Round each end of the folded paper stack with your scissors. Alternately, cut each end to a point.
Wrap a six-inch piece of floral wire around the center of the folded paper. Twist tightly to secure.
Carefully separate each tissue sheet on either side of the wire. Pull the tissue up from the other sheets toward the center of the pom-pom.
Fluff the pom-pom and rearrange the tissue sheets until you are satisfied with the shape and fullness.