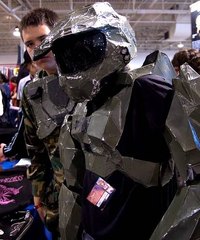 Master Chief's armor is one of the most iconic graphic elements of the Halo series. He has yet to be depicted in the series outside of the armor. Like much science fiction body armor, it has a plastic texture to it. Making a good replica of this style armor is limited without a proper life-sized mold of the original, but it is quite doable with patience. The same look is achievable with different materials and a final coat of Plasti Dip and paint.
Things You'll Need
Reference image of Spartan-II armor or Halo game
Poster board
Cardboard
Scotch Tape
Duct tape
Scissors
Velcro
Paint
Plasti Dip
Motorcycle helmet with visor and orange face guard
Black body suit
Black gloves
Create a pattern of each facet of the armor as its own separate piece. The pieces should fit together to form a 3D model of the armor surface. This model should be sized to fit over the body suit and gloves when worn.
Form the 3D model pattern by scotch taping the parts together. Try them on to make sure they fit over the body suit. Make any necessary adjustments to size them correctly.
Cut the cardboard into the same shape as all of the pattern pieces.
Duct tape the armor together to form the 3D form. Mark a few places where the armor contacts the body suit. This will show good locations to place the Velcro to attach to the body suit.
Attach the Velcro on two or three places marked on the inside of the armor. Sew the matching Velcro piece to the corresponding location of the gloves and body suit.
Cover the surface of the cardboard with Plasti Dip. This is a synthetic rubber coating that will give the armor a more plastic texture. Fine armor details can easily be etched into the Plasti Dip coating when dry.
Paint the Plasti Dip surface of the armor and the helmet. Master Chief's armor is sage green, but other color schemes can be used. The multi-player armor customization tool in all of the series can be useful for playing around with other color options.